The History of Two Famous Australian Lollies and Snack Brands (And Where to Buy Cheap Bulk Lollies)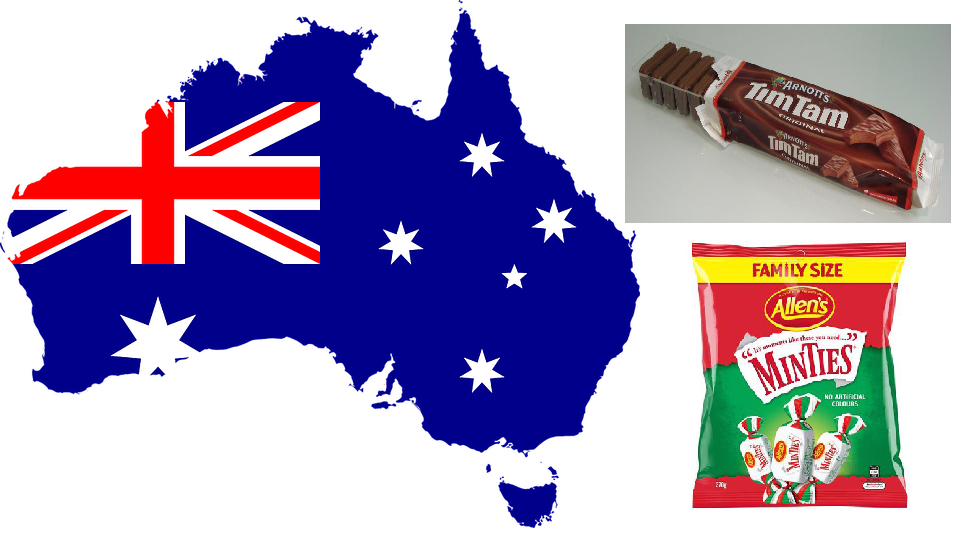 The average Australian consumes around 50.4kg of confectionery and snacks every year, so it goes without saying that we are a nation of sweet tooths. The term lolly (or candy, sweets, confectionery depending on your location) can be used to describe everything from chocolate through to hard candies, chewing gums, lollipops, sours, gummies, caramels, marshmallows, licorice and a wide range of other tasteful delights. Every country in the world produces a famous brand or type of lolly or snack, and Australian-made sweet treats are renowned for their irresistible flavour and quality. In this blog post we'll be taking a look at two of the most famous Australian lollies and treats, highlighting how they came to be and how you can get your hands on some delicious bulk lollies without breaking the bank.
Arnotts – Tim Tam
A visit down under would not be complete without enjoying enjoying a Tim Tam. This uniquely Australian icon is known throughout the world as Australia's favourite chocolate biscuit, and if you haven't tried one yet, what are you waiting for?
Born out of a desire to improve upon the Penguin biscuit sold in the UK, Arnott's brought Tim Tam to market in 1964. The chocolate coated, cream filled malt biscuits quickly went on to become the brands best selling biscuit, and today Arnott's sells around 35 million packets of Tam Tam every year.
Who came up with the name you might ask? Tim Tam was the name of the winning horse of the 1958 Kentucky Derby, and Ross Arnott thought this name was perfectly suited for the biscuit. It's certainly catchy, and the Tim Tam has gone on to become a much loved Aussie made product which you'll find in every good supermarket, service station and online grocery store in Australia. Look for the packets with the iconic Arnott's logo which includes the colourful, biscuit loving macaw parrot which was owned by William Arnott himself. 
Whilst you can't go past the original milk chocolate Tim Tam, the range has expanded to include dark, white, double coat, choc mint and chewy caramel along with a range of unique flavours in the 'Crafted Collection'. Keen to try? We've got the full range of Arnott's biscuits right here.
Allens Lollies


Founded in 1891 by Mr. Alfred Allen of Melbourne,  Australians have grown up with famous Allen's lollies such as Allen's Minties, Allen's Fantales, Allen's Milk Bottles, Allen's Red Frogs, Allen's Snakes Alive and Allen's Party Mix, and the brand continues to create exciting new products to this day.
Alfred Allen previously worked at MacRobertson's, a famous Australian confectionery company originally known for products such as Freddo and Cherry Ripe which are now sold under the Cadbury name. It didn't take him long to build the Allen's brand up, as by 1909 Allen's became Melbourne's third largest confectionery business, right alongside MacRobertson and Abel Hoadley. As of today, Allen's is the biggest selling brand for sugar confectionery in Australia.
As a leading supplier of bulk confectionery and wholesale lollies, Tasteful Delights proudly stock the bulk Allen's lollies range. If you are planning an event and need to load up your dessert tables and candy buffet tables with delightful Aussie lollies at an affordable price, look no further than Allen's.
With an eclectic range of more than 25 lolly varieties, there's something for everyone in the range. Allen's Minties are a favourite of young and old with their retro style wax wrappers covered in fun sketches and the famous saying "it's moments like these" or "Another Minties moment". More of a chocoholic? Try a bag of Allen's Jaffas which combine delicious chocolate with a crisp, orange flavoured shell which melts in the mouth.  For traditional soft lollies, you will be spoiled for choice with pineapples, red frogs, peaches & cream, snakes alive, jelly beans, classic party mix and more waiting to be discovered - browse our range and take your pick today.
Fun Facts About The History of Lollies
·       The Ancient Egyptians were among the first to develop a taste for sweet treats. Rather than sugar, they used honey to create marshmallow like candies.
·       Chocolate was scarcely available prior to the 1600s
·       The oldest chocolate bar in Australia is Cherry Ripe, which came to market in 1924
·       The industrial revolution brought with it the development of sophisticated machinery capable of producing new varieties of lollies at rapid speeds, making confectionery more affordable.
·       Lollies weren't all that common in Australia until the late 1800s when companies such as MacRobertson's, Allen's and Arnotts were founded
Looking to Buy Bulk Lollies Online? We've Got You Covered!
When you need a lot of lollies fast, think of Tasteful Delights. When you purchase lollies in bulk, you can put more effort into planning your incredible lolly buffet for a wedding or birthday party and less time running around. Our collection of bulk lollies online includes famous Australian brands along with imported treats you won't find anywhere else; and they are available in a range of sizes/pack options to suit your needs.  Tasteful Delights is your trusted online lolly shop with fast shipping, and we look forward to fulfilling your order soon.