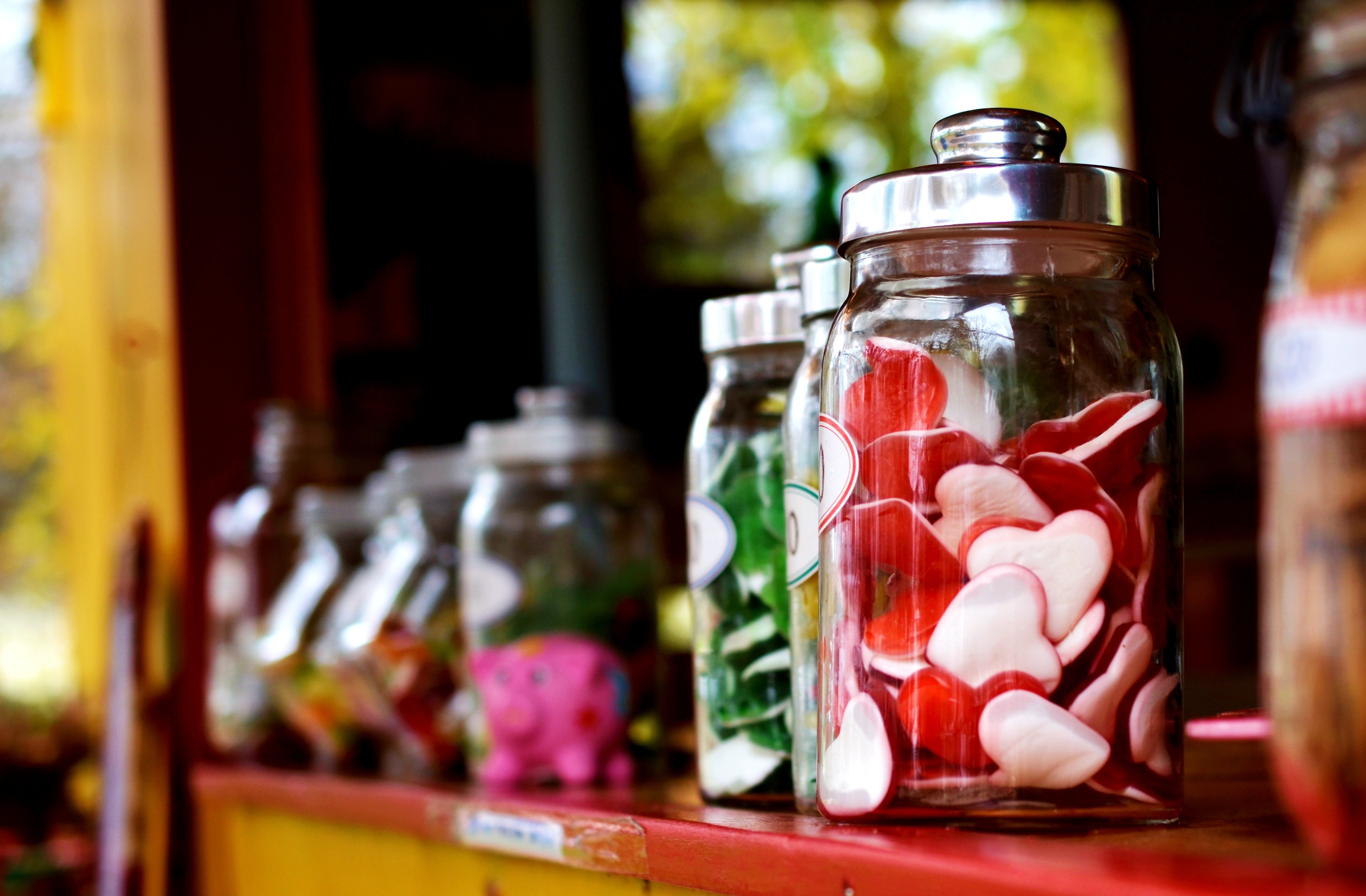 Bulk Lollies and Snacks for The Office and Promotional Purposes
Lollies aren't just for children's parties, they are an ideal addition to your workplace. Everyone loves a sweet treat, and it is not uncommon to find communal lolly jars in the office which employees and visitors can help themselves to throughout the day. Not only is this a great way to raise staff morale, it also helps to liven up the office and can be a great way to promote your brand too. With such a colourful range of lollies and snackfoods on offer, and the ability to get creative with your presentation, why not start an office candy bowl today! In this blog post we will take you through the benefits and highlight some of the most popular confectionery for the workplace.
Benefits of Having Lolly Jars in the Workplace
1.       Boost Staff Morale
Happy staff will benefit your business in more ways than one, and what better way to boost staff morale than by offering a delicious office lolly jar. Employees will be able to help themselves to a lolly during quiet periods, stressful times or when they need an energy boost. This also provides opportunity for staff to engage in conversation with colleagues, chat about their favourite childhood sweets and perhaps even propose a great idea for your upcoming projects.
2.       Free Up Valuable Space
Vending machines were once commonplace within public buildings and office spaces, but they take up valuable space, require constant refills and malfunction frequently leading to costly repairs and unhappy customers. Having an office lolly bowl will instantly lift the ambience of your office, creating a positive vibe for staff and freeing up valuable floor space. The benefits of providing free snacks for employees are well known, so perhaps its time to ditch the vending machine and give your staff and visitors something to look forward to each day.
3.       Promote Your Business
Custom stationery, cards and USB's are a great way to promote your business, but they can be a little boring. Lollies on the other hand are colourful, fun and look great when displayed in glass jars with your company branding. You could also prepare small lolly bags for customers and clients, giving your brand additional exposure. Whether you opt for company lolly bags, branded jars in the office or both you will be sure to reap the rewards and have some very happy staff and clients.
4.       Show Your Appreciation
Placing a candy jar in the break room or on your desk is a great way to show appreciation for your hardworking staff. It has also been suggested that those who keep a lolly jar on their desk may be seen as more approachable and friendly.
Popular Choices - Bulk Lollies and Office Snacks
Everyone has their preferences when it comes to lollies and snack foods, but you can't go too far wrong with any of the following.
·       Jelly Beans – colourful, nostalgic and a wide array of flavours for all to enjoy. Jelly beans look great in a glass jar and will prove impossible to resist. Allen's 1kg jelly beans make a great choice.
·       Minties and Fantales – these classics will never go out of fashion, and the interesting trivia and sketches on each wrapper will lift the spirits of staff and visitors. Minties are packed with refreshing mint flavour, whilst Fantales will satisfy chocolate lovers with the blend of chewy caramel fudge coated in rich chocolate.  
·       Snakes – jelly snakes are another colourful and cost-effective option for your office candy bowl. There are a large range of products to choose from, and you can also opt for The Natural Confectionery Co snakes which have 25% less sugar and do not contain artificial colours or flavours.
·       Mints – Mints such as Allens XXX mints, Kool Mints, Mentos, Tic Tac, Eclipse and Jila mints are a great choice for the office. Whilst they may be simple in appearance, they will be appreciated by everyone as they provide instant refreshment.
·       Roasted Nuts – In addition to lollies, you may wish to provide some healthier options. Roasted nuts are a nutritious choice high in protein and antioxidants. For roasted nuts delivery, look no further than the extensive range here at Tasteful Delights.
Tasteful Delights – The Home of Office Snacks
The benefits of having an office lolly bar are well understood, and we hope the above suggestions have given you some inspiration to start one in your office. Our online lolly shop caters to all tastes and budgets, and we invite you to explore our range today. Once you've decided on your favourite snacks, don't forget to pick up a few glass jars or acrylic containers and have some stickers printed if you want to include company branding or motivational statements on your jars. With bulk purchase options, the best brands and fast delivery, you can have your office lolly jar up and running in no time at all.